Caribbean style passion fruit French toasts
Caribbean style passion fruit French toasts – Who would have thought that I, the self-proclaimed passion fruit hater, would one day serve you passion fruit French toasts? Truthfully, up until about two weeks ago, I myself would've thought that impossible.
For some unknown reason, I could never stand passion fruit. I associated its juice with one that leaves a slimy deposit in one's throat. And I still do. So how come I am serving you those passion fruit French toasts today? Something's happened. I tried them in a new form. And my palate was conquered. Perhaps, my first encounter with this fruit must have been wrong. Just like my encounter with many other flavors. If you've been reading this blog regularly, you know about a few of them.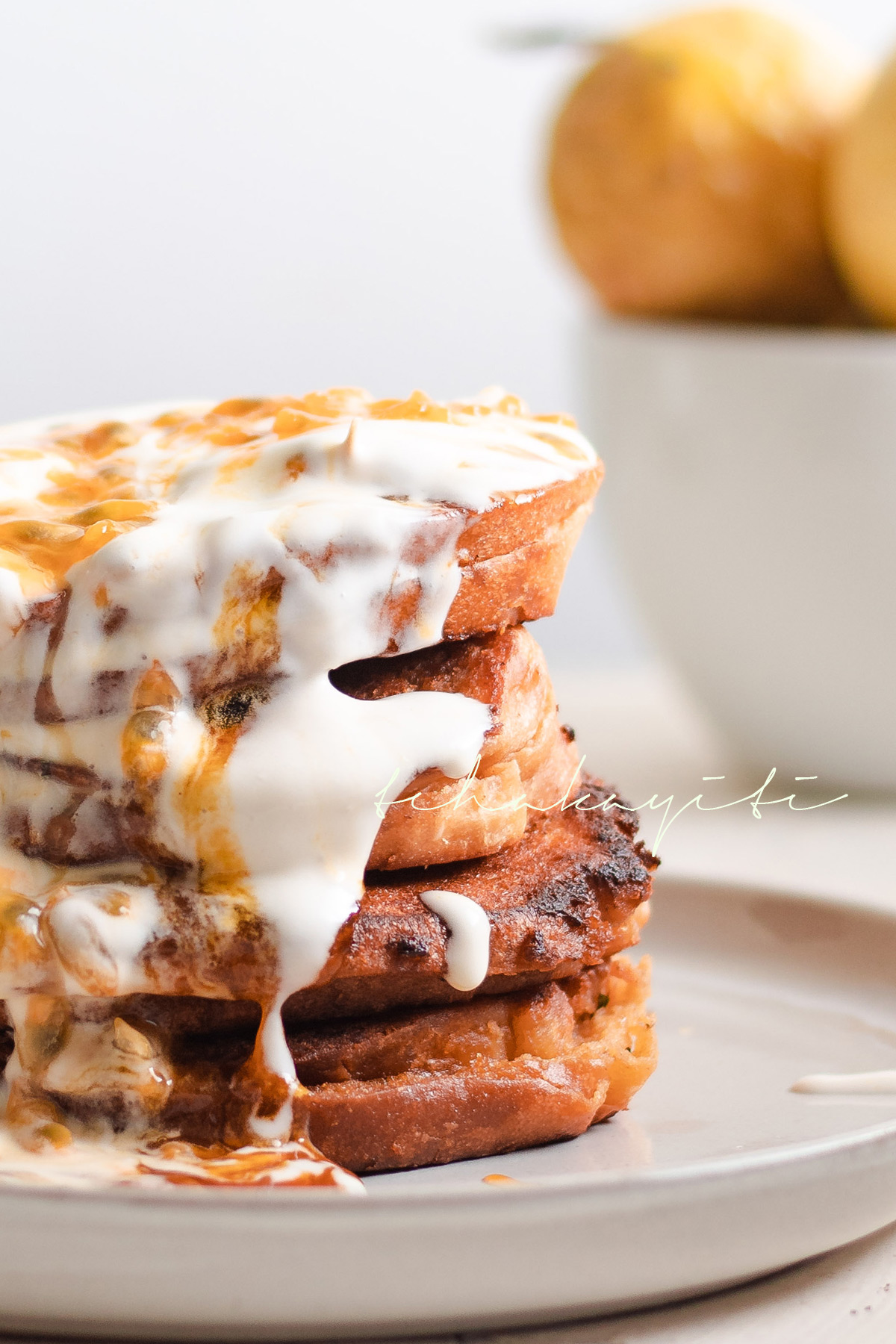 You've definitely heard of my controversial relationship with many other fruits, vegetables and flavors.
That list seems to grow with every new article. Yet, some of the ones I claim to most abhor do sneak their way into my recipes. Take for example onions. My palate and this root do not get along. But, I do recommend that you grate and add them to my Tête de Maure cheese spread recipe. I even served you an onion pie, which crust I revealed that I do eat – just the crust not the filling – after it has absorbed the cheesy 'oniony' béchamel aromas.
Mayo does not rank high on my list either. Oddly enough, I have a favorite go-to mayo sauce which I served you alongside my breadfruit waffles and fries…For years, I rejected millet and red bulgur. But, I do enjoy a creamy pumpkin pitimi risotto and a tabbouleh style red bulgur salad.
I could go on and on about the produce I don't like as is but that did find their way in my cooking through the years. But I'll stop the list there. I trust you'll discover them all through my writings. Some of them have made their debut on the blog already, while others still struggle to earn their spot. Their time surely will soon come. And when that happens, I will make sure to inform you.
In the meantime, let's go back to those fruits and how they snuck into my passion fruit French toasts.
After complaining about my dad planting this vine in our yard and Haitians adding passion fruit juice to every beverage, I have turned into that Haitian. Except that I am not fully that Haitian. I still refuse to drink its juice. And I will avoid passion fruit based cocktails as much as humanly possible. I keep contradicting myself, I know.
In my defense, my passion fruit stuffed French toasts do showcase this passiflore under a different light. Definitely a happy surprise, if you ask me. The fruit's acidity and crunchy seeds help balance out what could otherwise turn into an overly sweet breakfast. They even make me forget the lime which I always add to my sweet dishes to brighten them a bit.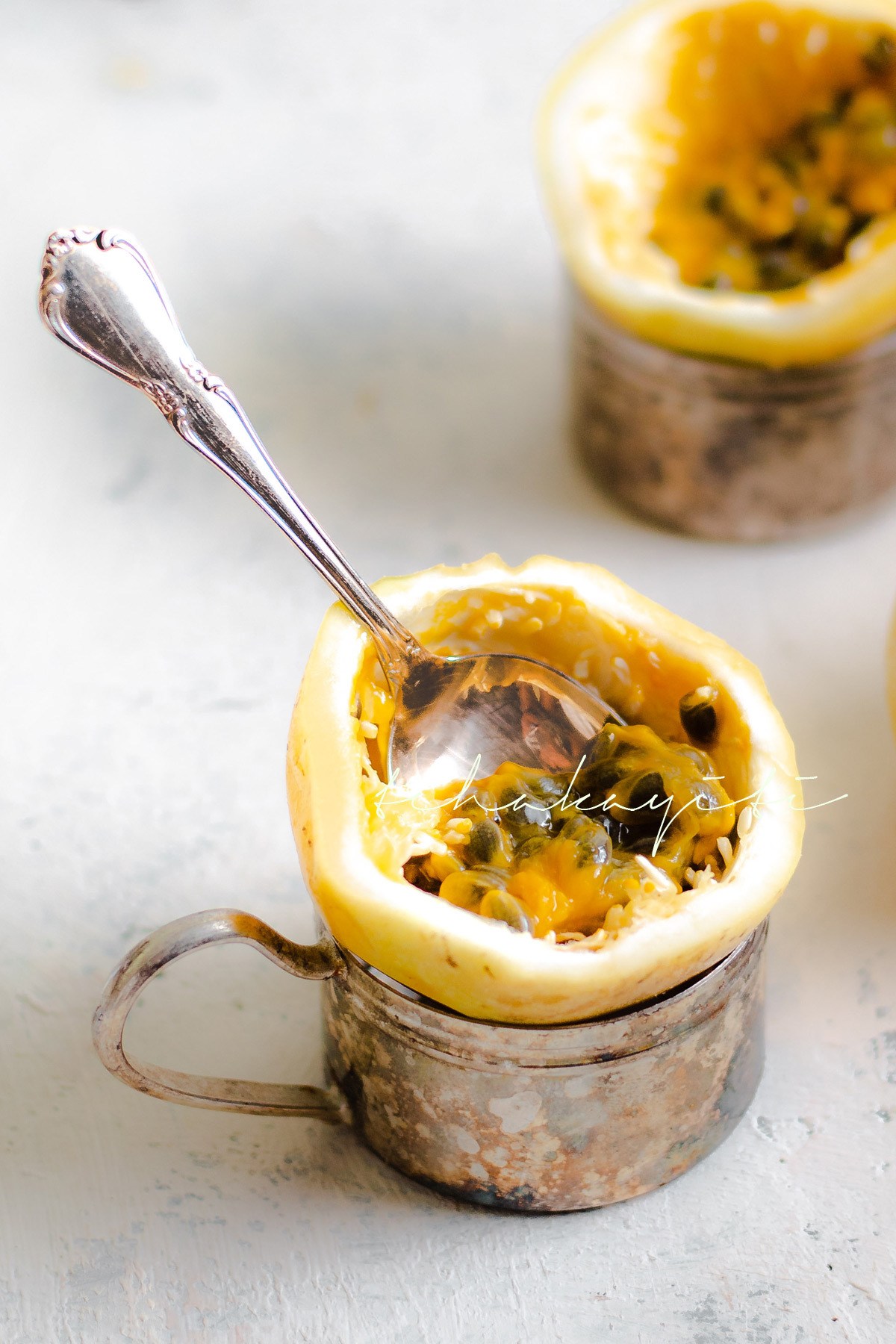 How I convinced my palate to give passion fruits a chance remains a mystery.
I think the many gorgeous photos from my Pinterest feed lured me in. That and the fact that I was seeking a more tropical flavor for my pain perdu, which for years, I enjoyed with a shaddock jam. That jam has definitely found a competitor in this passion fruit caramel, cream and sauce mixture. After enjoying those passion fruit French toasts, I even tried a passion fruit mousse which I'll soon share with you. This new taste for this passiflore begs the question: were those passion fruits from my childhood that awful. Or has my palate, perhaps, simply evolved through the years?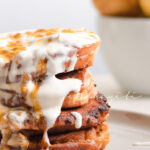 The Caribbean style passion fruit stuffed French toasts
A sweet passion fruit caramel is layered in between the bread slices that make these French toasts. Topped with whipped sour cream and the raw fruit, these French toasts will surely brighten your breakfast and brunch.
For the batter
2
eggs
1
grated lime zest
1
tsp
vanilla
3-5
chopped mint leaves
1
tbsp
sugar
¼
tsp
cinnamon
⅓
cup
heavy cream
1
tbsp
dark rum
For the caramelized passion fruit jelly
⅓
cup
sugar
3
passion fruits
about ½ cup of juice
1
tbsp
butter
For the whipped sour cream (optional)
⅓
cup
cold sour cream
⅓
cup
cold whipping cream
2
tbsp
sugar
lime zest
For the French Toasts
Prepared passion fruit caramel
Prepared batter
8
slices
of bread
Passion fruit
for garnish
Prepared whipped sour cream
or whipped cream – Chantilly
¾
stick of butter
for cooking
For the batter
Whisk the eggs until frothy
Add the grated lime zest, vanilla, chopped mint leaves, sugar and cinnamon
Incorporate the heavy cream and whisk well to combine
Finish with the rum and set aside for at least 15 minutes to let the flavors infuse the batter
For the caramelized passion fruit jelly
Extract the juice from the passion fruits and set aside
In a pan, heat the sugar until it melts completely making sure not to let it burn
As the sugar turns into a caramel, slowly whisk in the passion fruit juice
The sugar may solidify a bit but just continue mixing until it melts
Incorporate the butter and mix well until smooth
Set aside to cool. The caramel will thicken as it cools
For the whipped sour cream
Beat all the ingredients together until they thicken
Set aside in the fridge while you cook the French toasts
Putting it all together
Butter one side of a bread slice with some prepared caramelized passion fruit jelly
Top with a second slice like you would a sandwich making sure both slices stick together
Dip each "sandwich" into the batter for about a minute or two making sure to flip it to coat evenly
Repeat the process with the remaining bread until you run out of batter
Melt the butter in a non-stick pan
Add the slices to the melted butter and fry until golden on both sides
Serve warm with the whipped sour cream and raw passion fruit on top
I used our local Haitian bread to prepare those French toasts, which resulted in softer pain perdu. Those of you living away from Haiti can definitely use regular sliced sandwich bread. Just make sure to let them stale a bit. They'll absorb and hold their shape better than fresh bread.
I usually let my batter rest for about 15-30 minutes, just long enough to allow the flavors to develop. But if you're in a rush, you may skip that resting time.